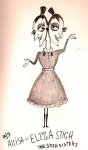 'Eliza and Elisa Stitch' Are a strange two-headed woman that attempt to be immortal by sewing people's souls into a quilt. Muriel is almost their next victim when she tries to join their "quilt club", but they are stopped by Courage when he sews them into a piece of fabric and Eustace blows his nose on them.
Due to their way of attempting to be immortal, Eliza and Elisa are probably stitched together, thus appearing to be a 2-headed woman.
Ad blocker interference detected!
Wikia is a free-to-use site that makes money from advertising. We have a modified experience for viewers using ad blockers

Wikia is not accessible if you've made further modifications. Remove the custom ad blocker rule(s) and the page will load as expected.