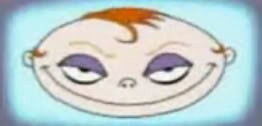 The King of Flan is the proprietor of a company that makes flan and uses hypnotism to attract customers, all of which become morbidly obese after eating too much flan. Muriel and Eustace were put under the King of Flan's hypnotic spell, and Courage was partially put under the spell as well, but he was not too obsessed with flan in order to be able to save his family, and the King of Flan was defeated by being hypnotized himself and, at the end of the episode, both he and Courage become obese from eating so much flan.
Appearance
Edit
Ad blocker interference detected!
Wikia is a free-to-use site that makes money from advertising. We have a modified experience for viewers using ad blockers

Wikia is not accessible if you've made further modifications. Remove the custom ad blocker rule(s) and the page will load as expected.