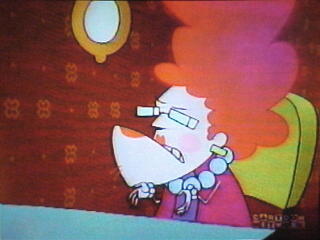 Eustace 's stepmother, with whom he shares a love-hate relationship. Like him she is actually bald but wears a wig and looks almost identical to her son, but much shorter. Like Eustace, Ma is insecure due to being bald, but she does have her teeth. She frequently dotes on Courage, much to Eustace's dismay. She is the C.E.O. of Growth Industries, a company that manufactures wigs and performs experiments on hair, which leads to her developing an antagonistic role in some episodes. In later episodes Ma hates Courage and Eustace, due to him foiling her greedy schemes. Ma Bagge is the true main antagonist of the show.
Ad blocker interference detected!
Wikia is a free-to-use site that makes money from advertising. We have a modified experience for viewers using ad blockers

Wikia is not accessible if you've made further modifications. Remove the custom ad blocker rule(s) and the page will load as expected.