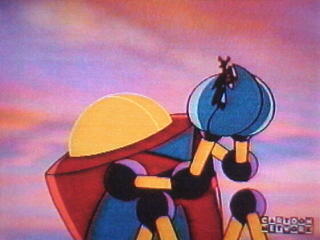 Robot randy is a robot who made his first and only apperince in robot randy the episode.Randy comes from a planet were robots have to destroy however randy dosint want to take over planets he wants to create rain deer sculptures.Every robot on his planet keept making fun of him because he didnt want to take over planets when he finnaley decided to he was hit by fruits. He took over the bagges farm intill courage and muriel found his rain deer art and said how nice it was than he aploigized and let the bagges go he can be considerd a friend of courage's at the end of the episode randy was seen making rain deer figures on his planet.
apperince
Edit
randy is a tall robot with a brookyln accent he can destroy objects easy a ley he has several blasters and rockets to move fast.
robot randy:i want to make stuff"eh not destroy
Ad blocker interference detected!
Wikia is a free-to-use site that makes money from advertising. We have a modified experience for viewers using ad blockers

Wikia is not accessible if you've made further modifications. Remove the custom ad blocker rule(s) and the page will load as expected.